Feature Image Courtesy Tim Fu
Just as the waves of uproar following the release of MidJourney were settling – January 2023 shook the world with the launch of ChatGPT. MidJourney, a Discord bot that produced surreal images by just accepting a few words as input, was helpful to a particular section of creative professionals; however, ChatGPT is an AI chatbot that anybody could use immediately to cut down hours of work. 
Students in university, research fellows, marketing gurus – and even designers – began experimenting with ChatGPT and were jarred by its quick responses. OpenAI's ChatGPT can answer all your questions, play out scenarios with you, improvise your text, help you convey your intentions clearly and even write code for your website. ChatGPT is so deft that its versatility sparked debates – Will writers and researchers be replaced? Will the roles of coders become non-existent? Most of all – how would such AI tools affect our personal and professional lives?
This stir was a lot like the hustle and bustle around MidJourney. Towards the end of last year, Love That Design published a three-part series called 'Creator v/s Creation.' In the conclusive article, we quoted experts saying AI might replace humans, but not in the foreseeable future. Despite the sprinting and splendid results, AI's fatal flaw – the lack of human intuitiveness – holds it back from world domination just yet. 
But in our last evaluation, ChatGPT hadn't, well, entered the chat…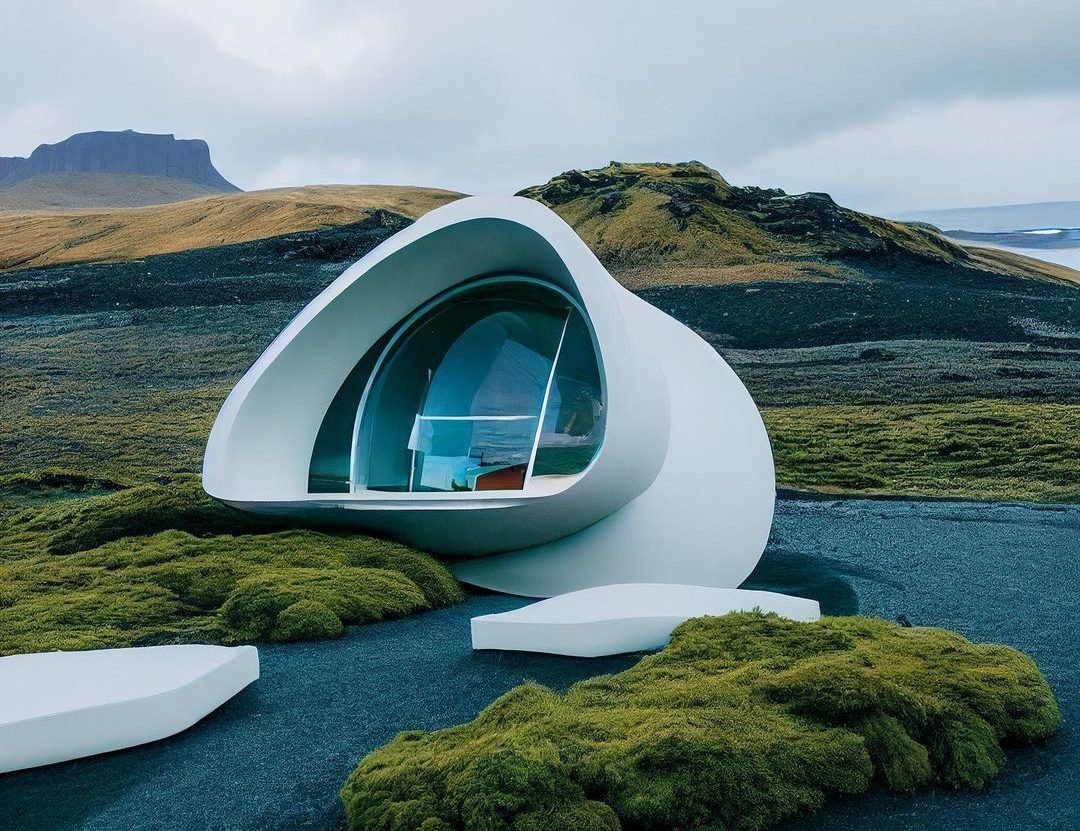 Co-created with MidJourney by Tim Fu
MidJourney V5: A step ahead or a step behind its predecessors?
The most lucrative upside and baffling downside of having over a million users on a developing application are the same – receiving overwhelming feedback from all types of users. Previously, users adept at MidJourney mentioned hurdles such as a culturally regressive data set. There was also a mixed consensus, where a small chunk of users felt that the images were too 'fantasy-like'. In contrast, for other users, these dreamy images were why they preferred MidJourney over DALL.E – and Diego Castro Posada, Managing Director of the architectural rendering studio, M.O.N.O.M.O. was one of them.
"MidJourney V5 has lost its abstract quality, which was very interesting in V3, yet V5 is an improvement from its predecessors," avers Diego. "MidJourney V4 had a clearer form definition and improved interpretation of the categories you were asking for in your prompts, but it failed to deliver realistic results, which resulted in a game-like feel, which was discouraging; I developed some series during that time that I didn't even post because of the look it had disregarded how good the idea was in my head. So I was sticking to–testp (MidJourney's beta version for photo-realism), which had a major limitation on image prompting."
Co-created with MidJourney by Diego Castro
Diego informs that during this stage, he observed that Stable Diffusion (another text-to-image platform from Deep Learning) began rising to prominence. Stable Diffusion achieved a more impressive level of realism and interpretation and allowed complete freedom with image and text sources. MidJourney has now caught up to its contemporary, and Diego concurs, "MidJourney V5 comes with the ability to use multi-image prompting and improved realism which is a game changer here. We're close, if not there already, to actually producing completely coherent concept projects for several areas of architecture and design. At that phase of projects, I believe it is a more powerful and efficient tool than any previous tools you had at your disposal."
Edward McIntosh, Design Director, Middle East, Atkins had compared MidJourney to Pinterest towards the end of 2022, and today the platform possesses the potential to articulate concepts directly. It looks like MidJourney doesn't like to keep its users waiting.
As for the future, CGI and AI artist, Michalis Krinou, reverberates, "MidJourney is a great tool; some of the generated images can be fused with a specific building design via post production to finalise a concept. But, currently the results generated by MidJourney in terms of landscape and photo realistic representation of building design hasn't reached the stage to replace the accuracy of architectural visualisation softwares."
Co-created with MidJourney by Michalis Krinou
Marco Vanucci, the Founder and Principal Architect of OpenSystem Architecture, has aptly described MidJourney as an 'architect's drug' in the past. With MidJourney available on mobile via the Discord application, we can only imagine how designers might prefer being plastered to their phones in leisurely times. Marco opines, "MidJourney V5 has improved image quality, although there seem to be some drawbacks. For instance, there's no upscale (yet). Previously, you could select and manipulate low-resolution images and choose which one to upscale. The "stylize" parameter has also changed and seems to have a stronger influence in V5. The image will tend to be more colourful and symmetrical with high value. Overall, V5 seems like a blend of the previous versions. I only wish there would be a better, more effective way to archive the images or trace their prompt genealogy so that one could more easily retrieve, archive, and sort the different work streams."
Co-created with MidJourney by Marco Vanucci
Tim Fu, Designer at Zaha Hadid Architects, reveals he uses Stable Diffusion to upscale images. The designer also experimented with sketch-to-image output on MidJourney, even though platforms such as DALL.E perform better at this function. "I fed MidJourney the sketch image input, took the closest solution, and continued tweaking it with prompts. Even after this painstaking process, I prefer MidJourney because it's much superior visually, and the design is way more resolved than anything else," Tim said.
Co-created with MidJourney by Tim Fu
It wouldn't be impudent to claim that the team at MidJourney, Inc. has the correct intel into what users need from the platform. In the first week of April 2023, MidJourney released the "/describe" command that allows users to upload an image and generate four possible prompts based on that image. Whoever thought MidJourney would go Benjamin Button on us?
"The /describe command will give users a glimpse behind the scenes into how the algorithm recognizes keywords to produce images," enlightens Stephen Coorlas, Founder of Coorlas Architecture – a practice whose approach imbibes new-age tools like AI, VR and 3D printing actively. Stephen also produces tutorials regularly to share and propagate the effective usage of these aids. "Since Midjourney has carved its niche of generating hybrid concept images, I don't believe the "/describe" feature will get much use by the majority of Midjourney subscribers. For invested users looking to refine their image generation process, this can be very helpful to refine vocabulary and be more precise with image outputs."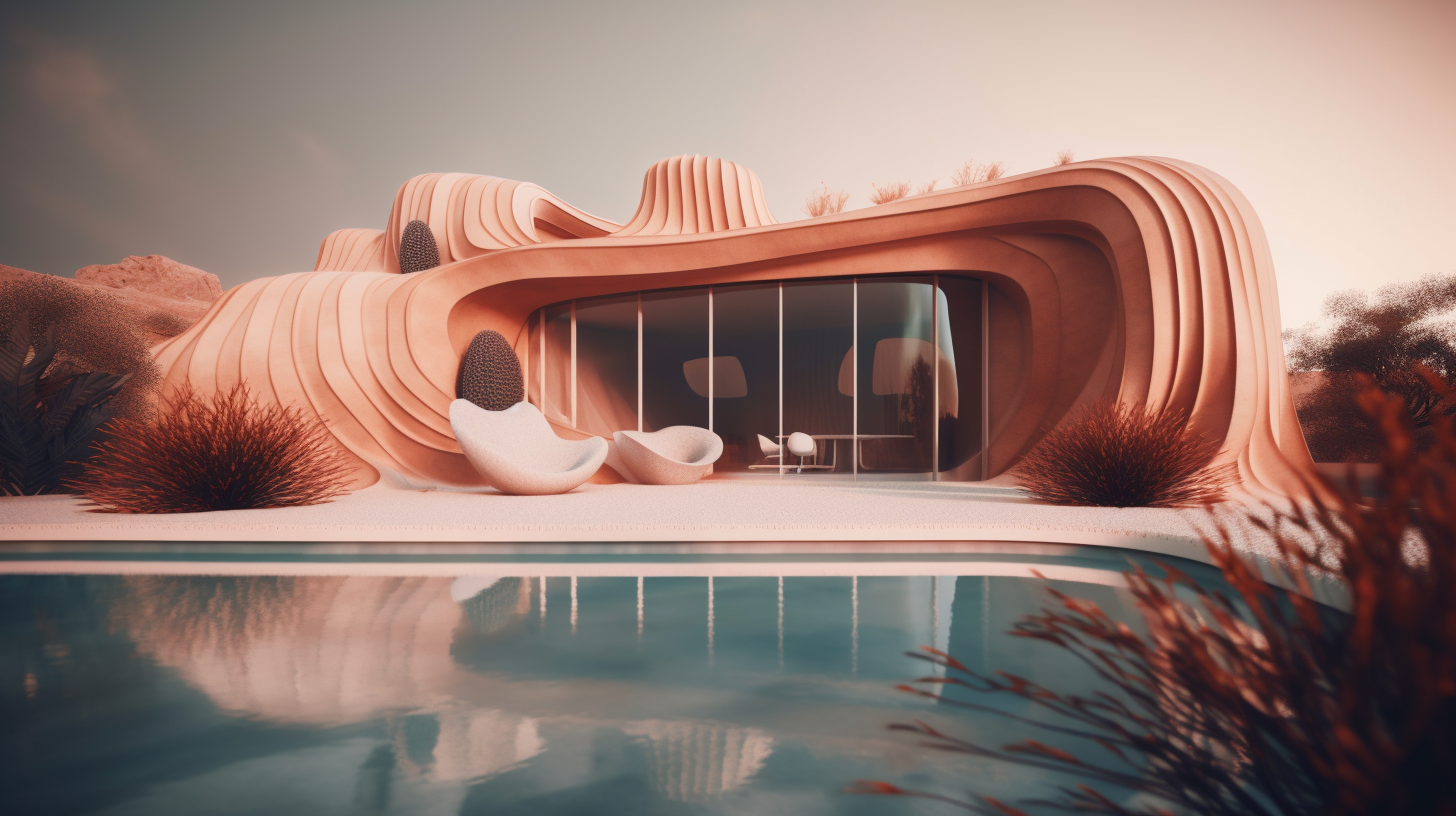 Co-created with MidJourney by Stephen Coorlas
ChatGPT X MidJourney: The first step to a 'self-designed by AI' era?
Only recently (second half of April 2023), Tim Fu announced two collaborations to produce 'AI-designed' products. The first is with fashion brand Sprayground, and the second is with furniture brand Mavimatt. While the process remains undisclosed, these attempts indicate a new horizon for design as we know it. 
So far, with MidJourney, users have been entering prompts and cultivating the skill to use the right inputs to generate the desired visuals. With the introduction of ChatGPT, can this task also be mastered by AI? It is well-known that DALL.E and ChatGPT share parent developer OpenAI; hence, ChatGPT can generate prompts for DALL.E. With MidJourney, the process is a little tedious. 
Marco says, "MidJourney V5 is now more capable of understanding full sentences than single words. This feature makes it suitable to be used in conjunction with ChatGPT. In particular, it is possible to use ChatGPT to act as a 'prompt wizard', instructing what type of specific set of parameters it should include when generating a prompt. This is a very effective way to create a useful workflow between ChatGPT and Midjourney."
Co-created with MidJourney by Tim Fu, Sprayground (bags) and Mavimatt (furniture)
Diego, on the other hand, is not as confident about this collaboration, "I believe ChatGPT is currently way more powerful for all the other applications it is being used for. I feel the need for a tool that will unleash the full potential of this combination. I imagine it to be a text block mixer, where you can update the words as a conceptual diagram of words and have R.T. updates much like we have in 3D software at the moment (imagine changing H.D.R.I.s for ambient CGI decisions but with forms and concepts to try different ideas at the same time)."
Even Stephen is not sold on the idea of the combination, yet. "It's an interesting approach, but the output moves farther away from the desired result when ChatGPT is introduced. This is a bit like starting with a template or partial sketch, and I am more partial to starting with a blank sheet of paper."
Co-created with MidJourney by Stephen Coorlas
Tim adopted a different approach to this collaboration. He first asked ChatGPT for a description of a building that the late Zaha Hadid would have designed today. Once he had the results, he entered prompts inspired by this description into MidJourney. The results weren't as impressive as expected, but they were intriguing nonetheless. Tim posted the results on LinkedIn with the caption, "I have yet to imagine that Zaha Hadid would get inspired by D.N.A. structures. But now that I think about it, her works are often inspired by morphologies in nature. And arguably, vertical gardens are not the first thing that comes to mind for Zaha's style, but somehow all this combination seems to work. Is the machine bad at imitating or is it being creative? What do you think?"
A commenter, and former architect at Zaha Hadid, was quick to point out that the vertical gardens had probably popped up because the word 'today' was used in the ChatGPT prompts. Since 'sustainability' has been a buzzword for the past few years, ChatGPT inculcated these considerations. Others were impressed by the schematic diagram that MidJourney created and deliberated on whether or not introducing technical and structural details already exists in MidJourney's scope and what could be done to syphon into reality.
Tim ended the post by typing out, "As AI keeps developing, I am admittedly concerned. I am glad it cannot develop designs based on regulations and produce technical drawings and feasibility studies. But as ChatGPT develops, how long will this statement remain true."
Co-created with MidJourney by Tim Fu
While the collaboration between ChatGPT and MidJourney remains in the developing stages, other workflows are being developed simultaneously. Though less popular, they are systematic approaches being mapped out by using AI in camaraderie with plug-ins such as ControlNet and technologies such as 3D printing, robotic arms, and VR viewing tools.
Stay tuned for 'Beyond Concepts: The Impending Role of AI in Design Workflows' as we gauge the future with Stephen Coorlas and other AI experts.
---