Dickson-Constant is Transforming the Market with Its Advanced Dirt-Resistant Woven Flooring

After more than three years of research and development performed as part of a continuous improvement approach, Dickson-Constant today unveiled its latest innovation: a transparent, invisible and odorless coating to protect flooring from dirt without altering its initial technical properties. Dickson-Constant remains committed to production using European materials and localized to the Hauts-de-France region, and has achieved a remarkable technical feat without compromising on the design and texture of its flooring.
A unique technology developed by Dickson's in-house teams 
The CleanGuard technology developed by Dickson's in-house Research & Development teams adds a top coat to the woven wear side of flooring to delay soiling and enhance stain resistance. It works by blocking PVC porosity to prevent dirt from penetrating yarns. This significantly reduces the transfer of dirt from shoe soles, for example. Flooring is guaranteed to look cleaner for longer while making it easier to clean and reducing the need for regular routine maintenance.
A major challenge for Dickson-Constant in developing this process was to protect the fabric's initial appearance and maintain its remarkable properties, as attested by its Floorscore A+ certification, which guarantees that Dickson Woven Flooring promotes good indoor air quality, and its remarkable performance in abrasion-resistance castor-chair tests.
Its advanced properties and Class 33 certification for heavy commercial usage make Dickson woven flooring with its integrated coating the product of choice for high-traffic areas, such as offices, hotels and restaurants where soiling is common.
Five layers of performance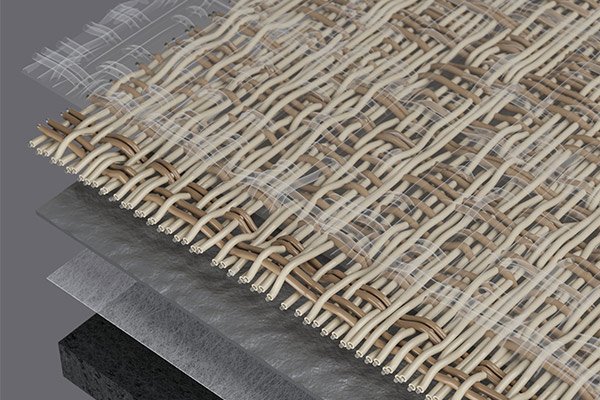 A guarantee of solidity and high quality, the layers are soldered together for greater stability and resistance. Harnessing this new technology, Dickson woven flooring now has five layers, each with its own characteristics and role to play:
The first acoustic layer incorporates SoundGuard®, a leading edge technology that enhances comfort and guarantees minimum 18 DB sound absorption. This tried and tested system effectively filters ambient noise and significantly reduces impact sounds.
A second non-woven fiberglass layer, guarantees dimensional stability at all temperatures- an essential feature of quality flooring. Dickson woven flooring keeps its shape and remains stable to within 0.1% over time.
A third PVC layer binds the layers of the product together for excellent material resistance.
A fourth layer, on the wear side, composed of PVC-coated monofilament yarns (4), significantly reduces the risk of fraying – a common problem with multi-filament woven flooring – thanks to FrayGuard® technology. The process applied guarantees the clean cut of Dickson Woven Flooring, for rapid and effective laying and a tidy finish.
A fifth and final layer coats each yarn and is integrated directly into the end product. It provides optimal protection without altering the material's texture, color or shine. The Dickson-Constant R&D team spent several years developing this chemical formulation. The coating is resistant to all types of adapted detergents.
It took Dickson's technical teams three years to perfect an invisible coating that could be evenly applied to a uniform thickness. The company then developed a special production line at its plant in Wasquehal, northern France.
A major innovation in the woven flooring market, this integrated coating will benefit all current ranges by early 2022. The technology will also be used on all future Dickson ranges, enabling the brand to offer a much wider range of colors, including very light tones.
---
About Dickson 
Crown jewel of the technical textile industry, Dickson is now recognized the world over as the benchmark for supreme quality indoor and outdoor French-made fabrics. Its products, marketed under two flagship brands, DICKSON® and SUNBRELLA®, are used by the top names in design, architecture and boating. The group's main growth engine – innovation – enables Dickson to constantly provide a diverse array of products and a wide range of technical and designer textiles, all aimed at improving people's homes and work environments. The company currently provides solutions for four key markets: solar protection, outdoor living spaces, indoor and outdoor decoration, and boating equipment. A combination of technical expertise and creativity, the Dickson style shines in more than 110 countries on 5 continents.