New From Hansgrohe – Rebris Faucets Line & Vernis Shower Systems
Reduced water consumption, without compromising comfort or aesthetics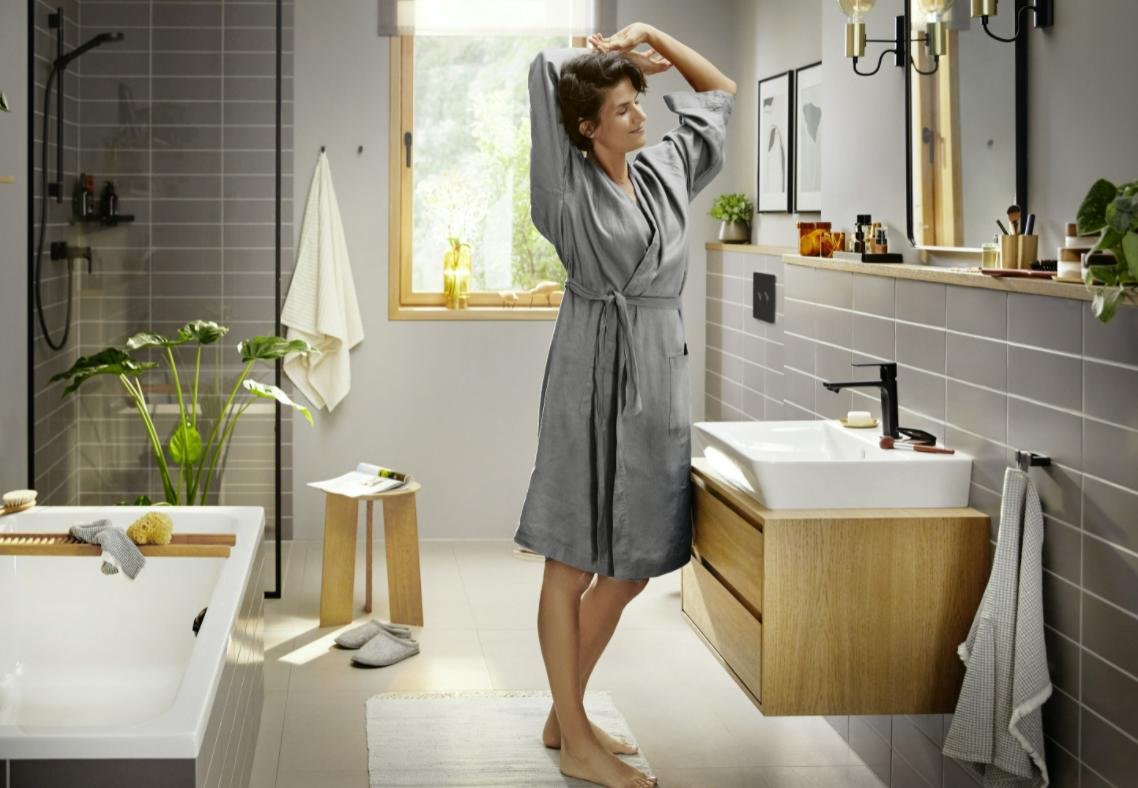 Sometimes it's enough to change a small detail to make a big impact. A small feature that revitalizes the bathroom and gives it a fresh look. And this small difference fundamentally improves well-being because it still reduces water consumption without compromising comfort. The subtlety that makes the difference is called Rebris from Hansgrohe. The novelty not only impresses with its sophisticated product design in two variations, but it also reduces water consumption to just 4 liters per minute at 3 bar thanks to innovative EcoSmart+ technology, while maintaining the same level of enjoyment in use. In this way, Hansgrohe Rebris brings even more joy to the bathroom while supporting a sustainable lifestyle.
Rebris, Available in Two Design Variations
The premium brand's new product focuses on timelessness, quality, resource conservation and smart features that make everyday life easier. Rebris is available in two design variations;  Rebris S with soft curves and Rebris E with clean lines. To fully adapt to the personal needs of the user and the respective bathroom ambience, both options are available in different, comfortable heights and in trendy chrome and matte black finishes. Rebris S and Rebris E are particularly eye-catching with their sleek appearance and sophisticated faucet handle. Rebris S blends harmoniously into a variety of bathroom styles with a soft, round silhouette. Rebris E is straight-lined and angular. It is particularly convincing in a modern ambience with striking lines. In addition, the design language continues through a wide range of washbasin faucets with concealed variants, bathtub spouts and single-lever fixtures for the shower. Other hansgrohe products from the existing range, such as the AddStoris accessories or the Vernis hand-held showers, harmoniously complement the faucet line.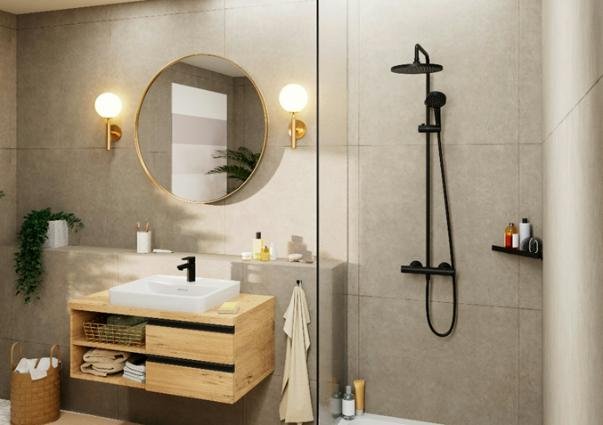 Even (Eco)Smarter in Everyday Life
The pioneering EcoSmart+ technology reduces water consumption to just 4 liters per minute at 3 bar and exceptional water experience. As a result, Rebris reduces flow by 20 percent compared to EcoSmart products. The right twist for an even more sustainable everyday life is provided by the CoolStart technology. It ensures that the faucet automatically delivers cold water when the handle is in the middle position. Therefore, for a short on and off when moistening the toothbrush, for example, no unnecessary energy is consumed for heating the water. CoolStart from hansgrohe only starts the energy-intensive water treatment process when it is really needed. Also, clever: the fitting has a so-called Coin Slot aerator, which can simply be detached from the fitting with a coin for uncomplicated cleaning.
Vernis Shower Systems – Design-savvy Minimalism in Matte Black
The new shower systems in the Hansgrohe Vernis line combine what design-savvy and trend-conscious homeowners want: an elegant look in matte black. Vernis shower systems are available in two minimalist and modern looks. For purists and fans of straight-lined silhouettes, Vernis 240 Blend convinces with its feel-good overhead shower in a square format. For those who prefer soft shapes, Vernis 240 Shape is the ideal choice. The round overhead shower with a diameter of 240 millimeters envelops the user in a gentle shower of rain. Thanks to optimized spray nubs that allow the water to flow off even faster, both designs actively prevent limescale from forming on the spray disc. Quick Clean technology also simplifies cleaning.
The hand shower, which can be individually positioned on the minimalistic shower bar, also delivers top performance. Not only does it have two different spray types, it also ensures a pleasant showering experience at low water pressure with a maximum consumption of 9 liters per minute. This is made possible by the variant with EcoSmart technology. For more intensity, the Intense Rain spray mode simply washes away the day's stresses and strains from shoulders. The integrated swivel joints prevent the shower hose from bending out of shape after the hand shower is removed from the bar. The thermostat, which is also minimalist, regulates the water temperature and allows a switch from overhead shower to hand shower. The new products are perfectly complemented by other Hansgrohe product lines for the shower: the clever storage solutions and accessories Hansgrohe WallStoris and AddStoris, for example. A harmonious overall look is also ensured by the matching faucets and accessories for the wash area in the Hansgrohe FinishPlus surface program.
---
About Hansgrohe 


Hansgrohe stands for holistic solutions for bathrooms and kitchens that combine water- and energy-saving technologies, intelligent functions and durable quality. With its timeless premium products, the tradition-rich brand combines forward-looking innovations with a sustainable and mindful lifestyle at a high level of comfort. Together with its long-standing design partner PHOENIX, the company also creates Smart Living applications that enrich everyday life with more functionality, safety and unique experiences with water. Within the internationally active Hansgrohe Group, the premium brand Hansgrohe manufactures, markets and distributes showers, shower systems, bathroom and kitchen faucets, and kitchen sinks.