Oloïd – A Sustainable Acoustic Luminaire With Character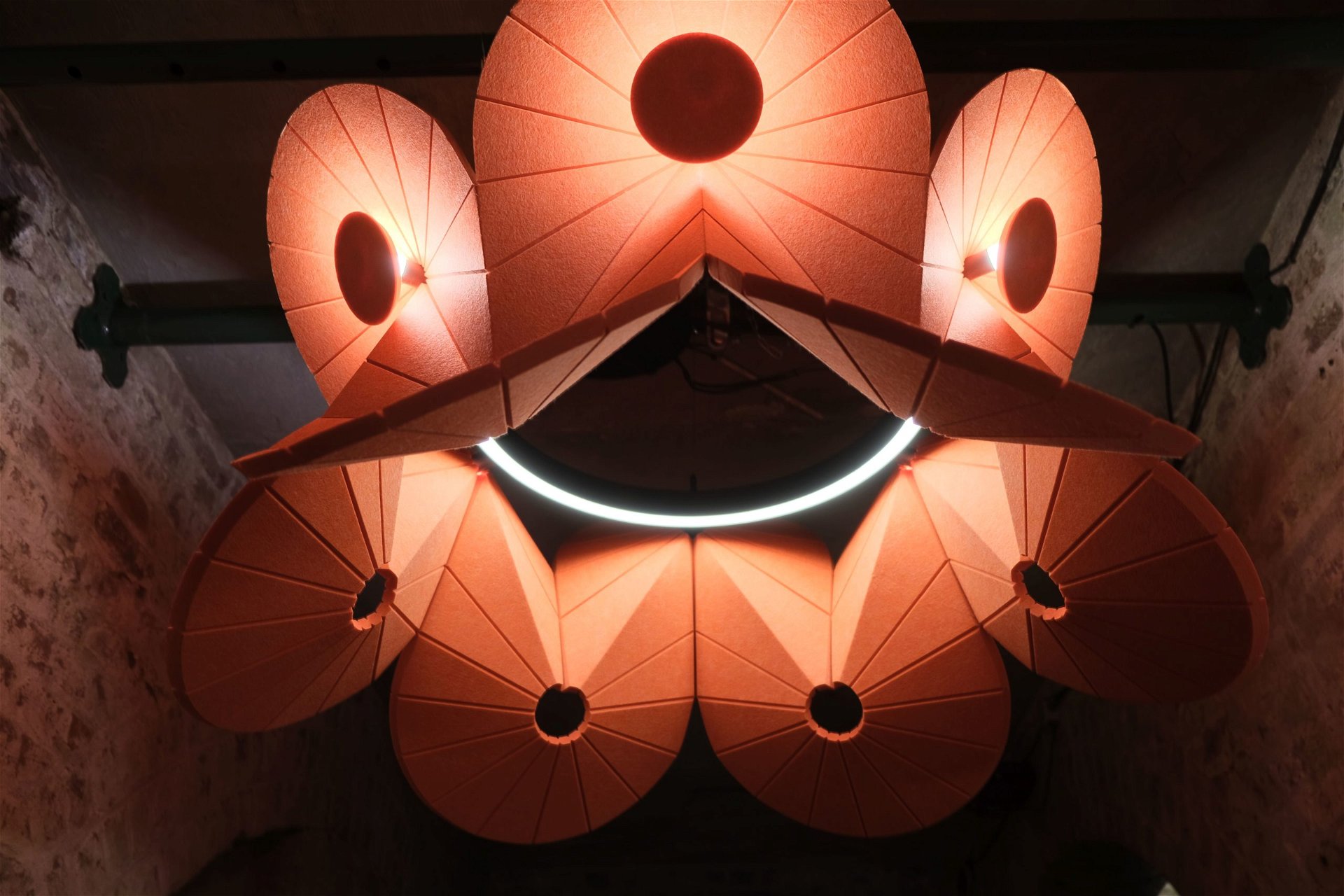 Oloïd is the result of a successful collaboration between Impact Acoustic and atelier oï, combining their expertise in acoustic engineering, material research and design innovation. Harnessing the capabilities of ARCHISONIC® Felt, Impact Acoustic's proprietary high-performance acoustic absorber made from upcycled single-use plastic bottles, Oloïd delivers exceptional sound absorption properties while promoting sustainability and responsible material sourcing.
"At atelier oï, we often begin our creative process with an encounter with the material. Our goal was to find a way to make the sustainable material speak in a new way."

Aurel Aebi, co-founder of atelier oï
To create organic shapes, the designers had to push the limits of the material's stiffness and flatness. With the right tools and processes, the designers were able to test and give the panels a whole new character.
Oloïd's captivating design is enhanced by the carefully curated selection of all 32 colours in the ARCHISONIC® Felt range, allowing architects to personalise spaces and create immersive environments. The products will premiere during Clerkenwell Design Week in London, providing a unique opportunity for visitors to experience the aesthetic appeal of the luminaire first-hand at the Clerkenwell Dungeon from 23-25 May. An extended version of Oloïd will also be unveiled at Chicago Design Days on 12 June, showcasing its innovative design and acoustic performance on a larger scale.
"The collaboration fascinated us as we witnessed the metamorphosis of our material. This was made possible using a distinctive cutting technique at specific angles and the skillful folding of the panels. This creative approach seamlessly transformed the two-dimensional panels into fascinating three dimensional entities, transcending surfaces to tangible bodies. With its sustainable design, this collaboration sets a new standard for sound-absorbing luminaires."

Sven Erni, co-founder of Impact Acoustic
Oloïd offers a transformative lighting experience that seamlessly blends functionality and artistic expression. Its innovative design, coupled with outstanding sound absorption, redefines the way light and sound interact, enhancing the ambience of any space.
---
About Impact Acoustic
Impact Acoustic is a leading Swiss provider of innovative acoustic solutions dedicated to improving the acoustic environment of various spaces. With a commitment to sustainability and design excellence, Impact Acoustic combines acoustic expertise with responsible material sourcing to deliver exceptional acoustic performance.

About atelier oï
Founded by Aurel Aebi, Armand Louis and Patrick Reymond in 1991 in La Neuveville, Switzerland, atelier oï is a renowned design studio known for its multidisciplinary approach and visionary creativity. With expertise in architecture, interior design, product design and scenography, atelier oï pushes boundaries and embraces intuitive and emotional design to create transformative experiences.