You salivate every time you think of it. You think of the last time you dined there, and the next possible date you can visit again. Your brain prepares itself for the dopamine release even before you actually eat. No doubt, eating at a restaurant you love is a truly soul-satisfying experience. Few other experiences can satiate your sense like enjoying a good meal with friends and family, at a place you love.
But is food the sole contributor to the experience, or is there another salient factor?
Interior Designers like to think otherwise. Paying attention to the design of a restaurant is important. After all, any popular restaurant will see it's customer spend a minimum of an hour of their day there. You want to leave them with a vivid memory of what their experience was like.
Even fast-food chains like McDonald's are looking into restaurant design, and have been undergoing a process of redesigning their branches around the world. The iconic American burger joint has decided to compete with the growing number of niche and hipster like eateries, and have understood the importance of their visual identity to the eating experience. As more Generation Y and Millennials turn into working professionals, restaurants will need to adapt if they want to attract this new breed of restaurant-goers.
We've taken a shot at generalizing restaurant design, trying to understand why and how the design of any Food & Beverage Joint is important to its success. More importantly, it's important what can help an eatery stand out in an already hyper-competitive and crowded industry.
Visual Design is your First Major Point of Impact
What potential diners will notice is the aesthetics; it's obviously inescapable unless it's a blind food test. Before even having looked at the menu, our minds subconsciously decide whether it likes the restaurant or not. If you agree with the "First impression is the last impression" adage, you'll understand how critical it is to create an environment that's inviting and pleasing to the senses.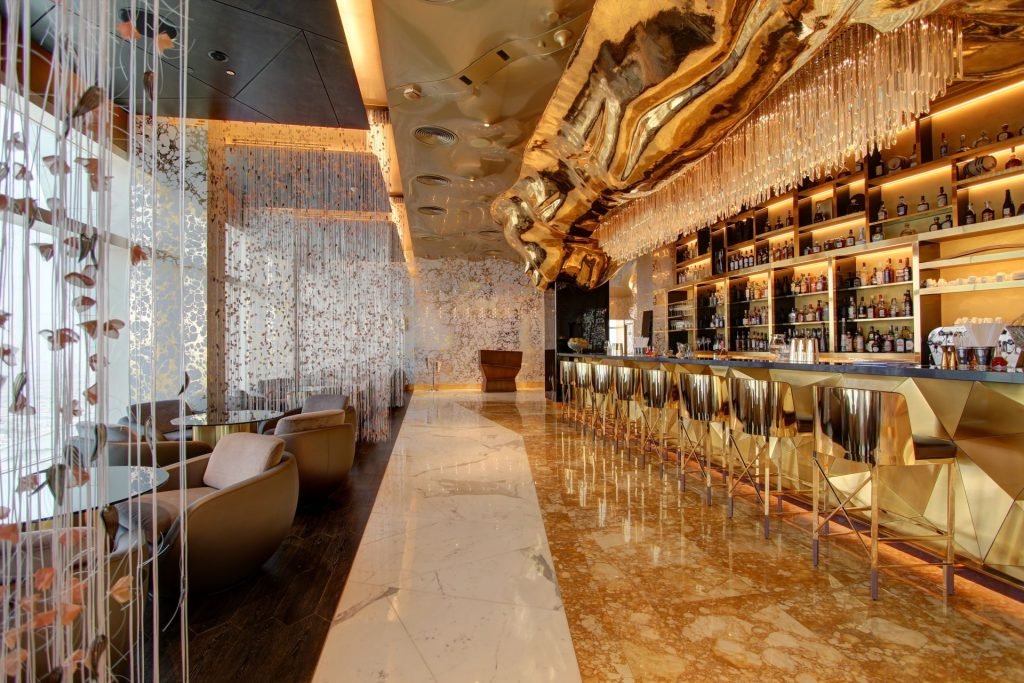 Take a step back and admire this breathtaking work of art by AAID, in collaboration with Keane Brands, who worked on the initial concept. "A bar or restaurant design should scream what the place is all about…. chic, lively, upscale, or low key and intimate. Whichever the case, it's visual design should tell you what to expect – quality, service, and ambiance." – says Stuart Allen – Founder & Managing Director of AAID, the team behind the exquisite bar located in the Burj Al Arab.
The visual identity the brand identity to the customer, which will, in turn, contribute to the overall brand awareness and lasting impression. It's your chance to show off your unique personality and differentiate you from the competition.
Colors and Lighting Create the Mood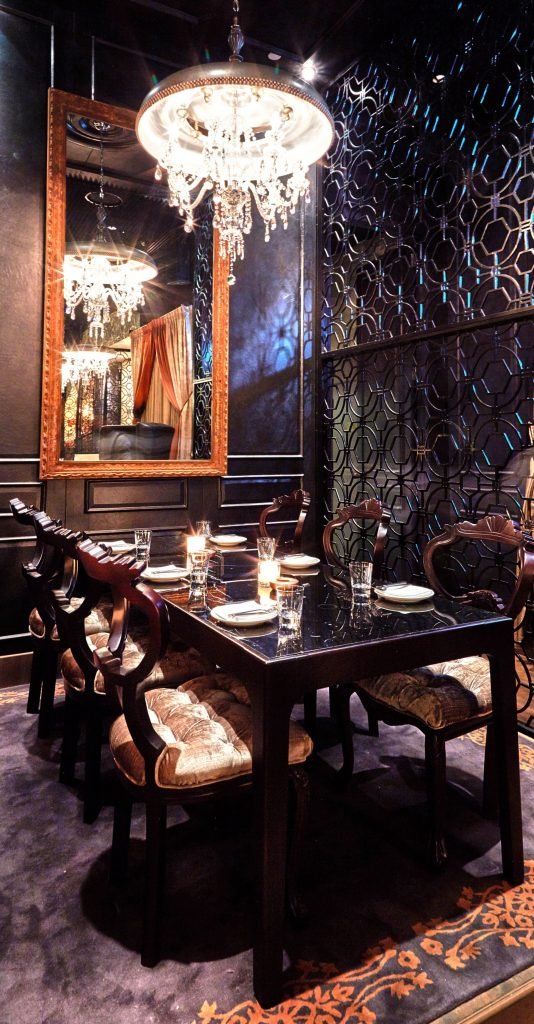 "Lighting is a fundamental aspect of interior design due to its capability of achieving a distinct and desired ambiance whilst color sets the tone, therefore both design elements culminate together in order to achieve the required atmosphere," Paul Bishop's expert opinion on the subject of lighting and color in a dining space. An opinion one should take note of, considering the number of award-winning designs originating from Bishop Design LLC, experts in restaurant design.
The colors seen around the space play a key role in influencing a customer's mood. It's also important to keep them consistent so as to help patrons acknowledge your theme and branding. In case you haven't noticed, Fast Food restaurants love using the color Red and Yellow. And with good reason too, they're known to stimulate appetite.
According to Elie Choucaire, Associate Partner at GAJ, "The choice of whether to go for warm or cool colours would depend on the restaurant type. If you are trying to create a Greek restaurant, for example, you may use white render with vivid blues and grey tones which give it a beach feel. Similarly, the environment which a restaurant inhabits will also have an influence on its design.  A beach restaurant, for example, would better suit light bright colours or shades of blue and turquoise that reflect the environment that it inhabits. Dark timber and rich colours would look out of place here and have a negative impact on the diner."
Lighting, on the other hand, is critical to creating the right ambiance. It affects people psychologically as well. There's a reason restaurants use yellow lights and not fluorescent lighting, it kills the mood and can be downright depressing.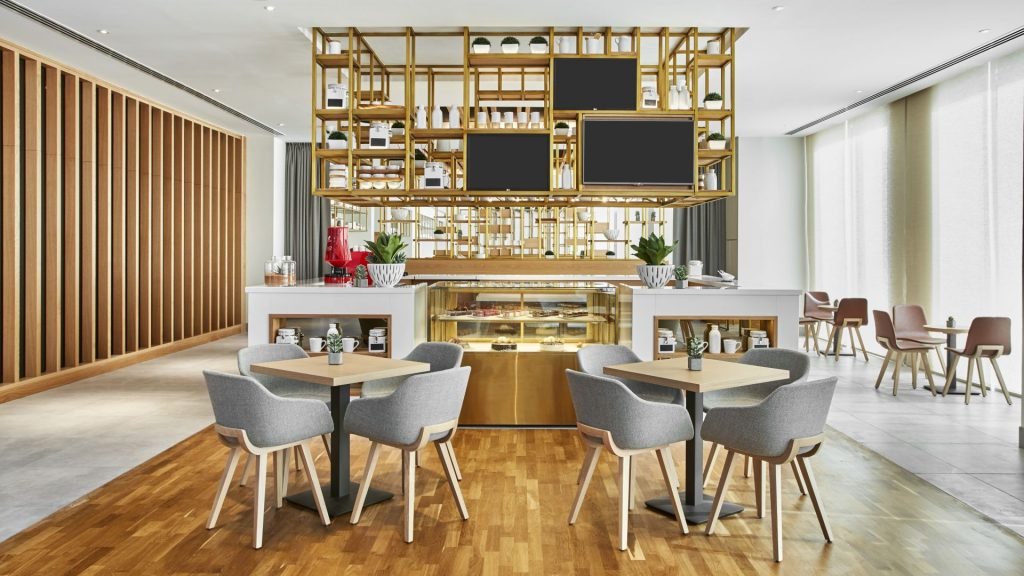 More importantly, however, your choice of lighting and it's intensity depends on what time of meal and experience you want to deliver. Restaurants popular for breakfast are always well-lit with plenty of natural light. The morning natural light has a vitalizing effect and also accommodates customers looking to simply sip coffee and read the paper. On the hand, restaurants, upscale restaurants use dim lighting to enable a sense of privacy.
Layouts can, and should, be optimized
An often overlooked part of the restaurant design process is the layout, which is important to the comfort level of patrons. The layout is a key driver of how people experience the space.  Important points to consider are the density of customers and style of service.
According to Paul, " The layout is fundamental in determining how the Clientele visually and physically interact and engages with the space. A venue cannot operate adequately if these elements are not considered correctly, therefore the interior spatiality's are of the utmost importance and the primary consideration from the project's onset."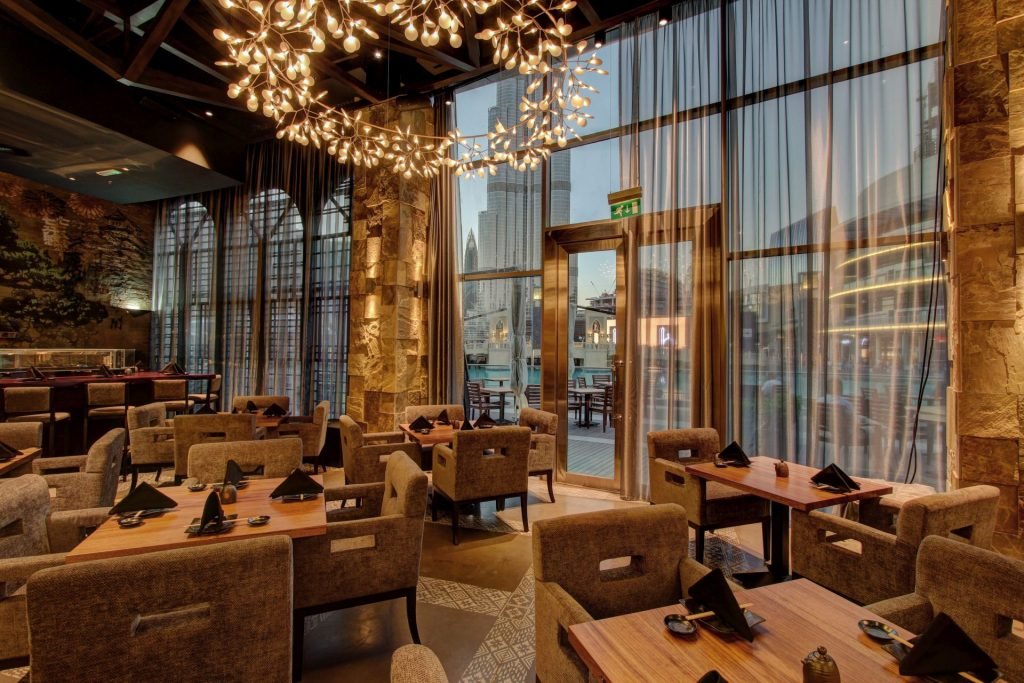 Fast food joints tend to keep less distance between tables; they have to be able to accommodate large and fast moving customers throughout the day, but not have to worry about space for their waiters and food is usually collected at the counters (With the exception of Pizza). Upscale and fine dining, on the other hand, emphasize spaces since peak hours are not a primary concern. Service access is important here.
Elie was kind enough to let us in on an interesting secret – People in the Middle East are always curious to see trendy new designs but the secret is to make the space comfortable enough for them to want to come back again!
Another missed opportunity is the waiting area. Designed corrected, the waiting area is a brilliant opportunity to upsell. If you've got an option kitchen or dessert on display, keep it within clear view of the waiting area – it'll get people excited and won't make the wait seem so long.
Acoustics – Do you want noise cancelers with your meal?
We've touched upon acoustics before, but only in the context of corporate spaces. Why would it be important in a restaurant you ask?
Picture this: You're taking a client out to business lunch to discuss an important proposal. But neither of you can focus. The laughter from the big group two tables ahead of you seem to be drowning any attempt at discussing your proposal. And you end up looking like the villain for the poor choice of location.
Social interactions are a common source of excessive noise which can be explained by the noise-breeds-noise effect, also known as the café-effect. This phenomenon occurs when conversations of individual groups create noise, which results in surrounding groups subconsciously competing to be heard and understood (Whitlock & Dodd, 2006).
Noise is, in fact, the second-most common complaint among restaurant goers. And most restaurant owners seem to think it has something to do with how loud the music is or how much noise can be heard from the kitchen. Waiting to solve these post completion only make matters worse.
Getting the acoustics right is critical, irrespective of the project. A lot more restaurants with industrial interiors are popping up. However, their hard finishes, open plan, and high ceilings make for poor acoustics. Not compensating for them can be a problem.
Various options like acoustic wall paneling, baffles, curtain, living walls, rubber caps on chair legs and soundproofing your kitchen are available and can be just as easily included into restaurant design. Noise management is critical to the experience, and will no doubt affect repeat business.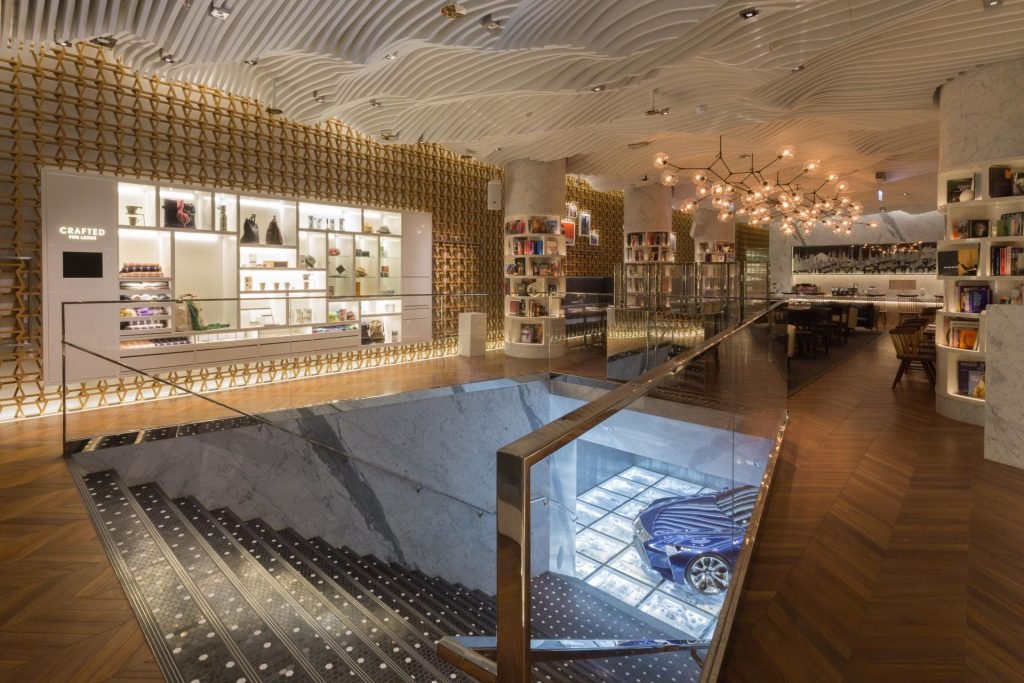 ---