Tapis Rouge Debuts Elettrico
A Collection of Mesmerizing Rugs Inspired by The Beauty and Philosophy of The Natural Light Spectrum
Elettrico combines intelligent futuristic forms, bold colorways and advanced sustainable and ethical material production. Comprised of 14 unique designs, the collection elevates the status of the rug as interior design to a work of art.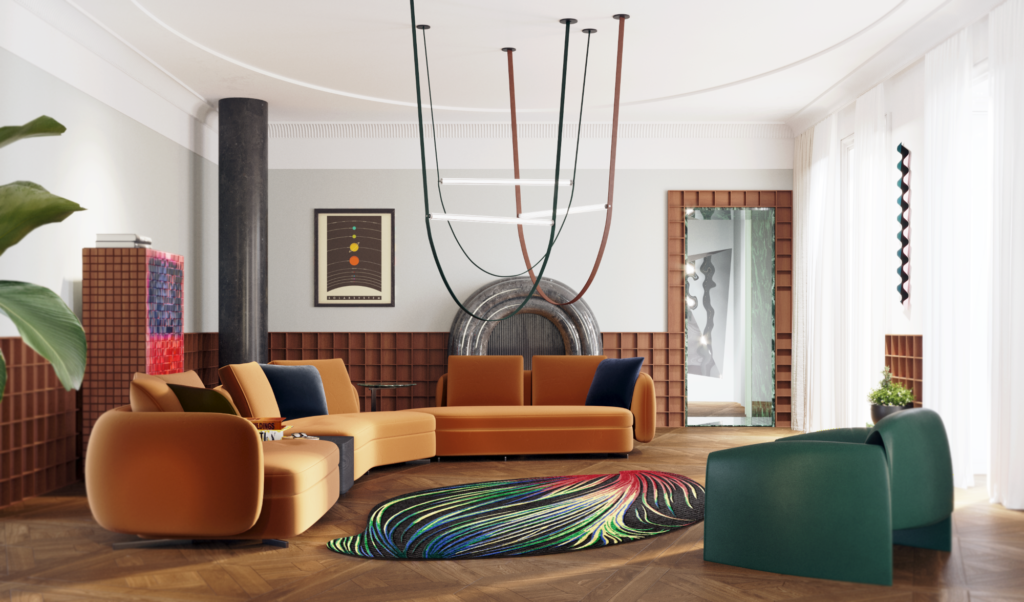 International fine rug atelier Tapis Rouge debuts Elettrico, a new collection of 14 hand knotted, silk and wool rugs that celebrate the beauty of natural light.

Based on the philosophy of natural light spectrum, the collection of five mesmerizing futuristic designs harmoniously combines the smoothness of organic form, unique qualities of scientific creation and advanced sustainable and ethical material production to elevate and transform a piece of interior design – the rug – into a work of art.
As a starting point for each design, the atelier's international team of designers, architects, graphic artists and craftspeople design team looked to the electromagnetic spectrum. Four frequencies of electromagnetic radiation and their respective wavelengths and photon energies were translated into a collection of 14 distinctive designs that blend fluid forms with striking color gradients.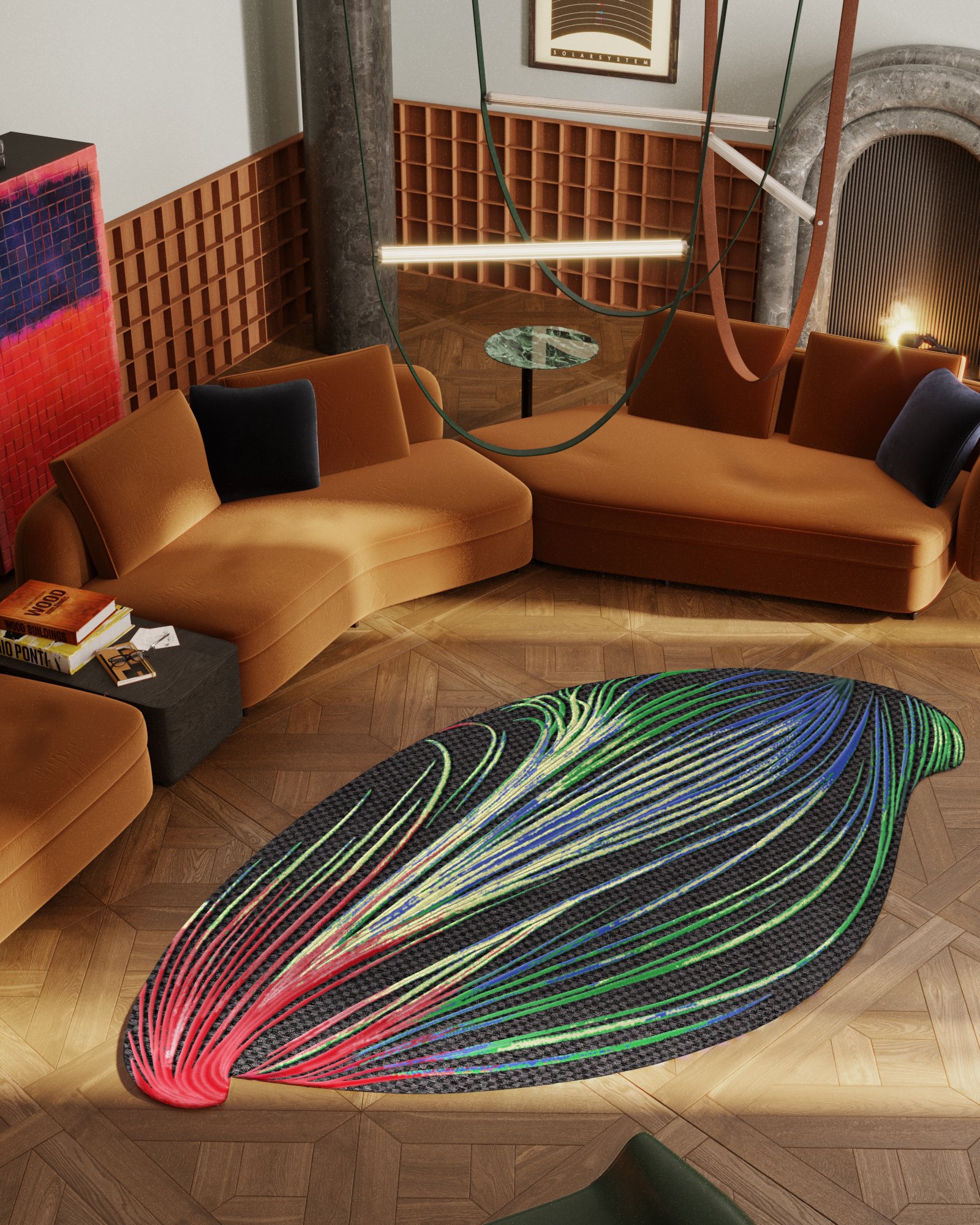 The bold cutting-edge design concept was inspired by the physical process of light travel and its neon color spectrum as it turns into different rays, as well as the creative visionaries of the 1980s and '90s who were celebrated for the way in which they created natural forms using advanced technology and employed boundary-breaking methods of production.
"In the 17th Century Isaac Newton identified the colors that make up the visible spectrum. Just as his discovery at a time became the first step for a new era of discoveries and world evolution, we believe that the new Elettrico collection with its futuristic never-before-used shapes, some with cut-out holes which were really challenging for the team to produce, will be a breakthrough in contemporary interior design,"

— said Natalia Enze, who designed this collection for Atelier Tapis Rouge.
"This collection seeks to change how we perceive rugs in interiors, transforming them from a purely functional element of the home into art objects in their own right – not to mention talking points,"
A very important value that remains constant in whatever Tapis Rouge does, however conceptually ground-breaking, is the extreme care that they take in ensuring the ecological and ethical impact of its collections.
The rugs are created, cut and washed by the atelier's Nepalese team with the use of only elementary tools, dyes are extracted from natural plants, flowers and trees, only natural materials – wool and silk – are used, with all plastics and synthetics omitted. All Tapis Rouge rugs are produced in Nepal by hand, using a more than a century year old hand knotting technique. Their production helps to support this community of skilled makers and their families and ensures that the ancient techniques are passed onto the next generation.
Like all of Tapis Rouge's rugs, each design is created to last a lifetime, bringing warmth and energy to the home like a work of art.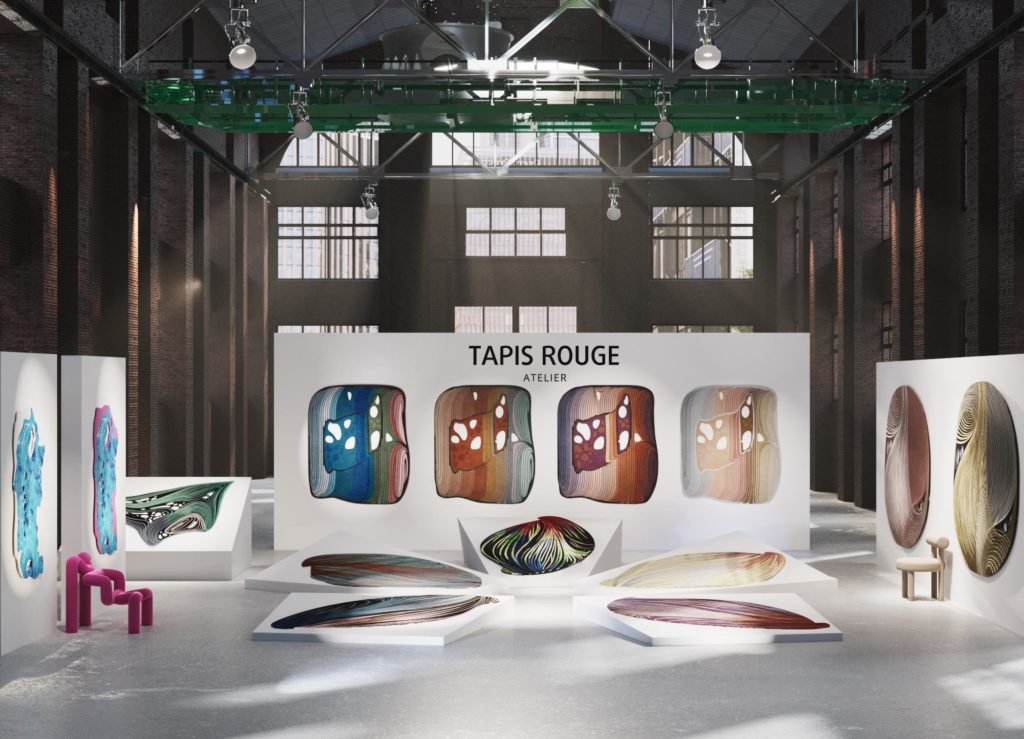 The Elettrico collection consists of 14 designs, with each feature organic forms and flowing patterns that convey the energy, movement and warmth of rays of light:
Laser: Colorful laser-like lines sweep across this leaf-shaped rug suggesting energy and motion. Its pattern is based on the trajectory of the photon movement. Four colorways: Laser Sun, Laser Mars, Laser Venus, Laser Venus Two dimensions: 160cm x 200cm and 216cm x 270cm
Space: The fluid, circular form of the Space rug, available in two colorways, is enhanced by the overlapping lines that flow across its surface, parting on opposite sides to reveal four cut-out shapes.
Two colorways: Space Odity and SpaceX
Two dimensions: 180cm x 138cm and 260cm x 200cm
Solaris: Striations that fade from vibrant aquamarine to blue and violet connect each corner of the Solaris rug. Where the undulating lines widen, organic cut-out shapes are revealed like stars in a solar system.
Two dimensions: 200cm x 192cm and 250cm x 240cm
Magnetic: Appearing like slices of rock with smoothed edges, the bright blue centers of the Magnetic rugs were inspired by the theory of magnetism. The rock-like design is available with a pink or white perimeter that gives the design a 3D-effect. Two colorways: Magnetic Soil and Magnetic Rock
Two dimensions: 100cm x 185cm and 140cm x 260cm
Gamma: The Gamma rugs were inspired by city lights and the reflection of light in the shop windows at night. This graphic design features bold layers of gradated color that look like Colorful strata.
Four colorways: Gamma Est, Gamma Orient, Gamma Sud, Gamma Nord Two dimensions: 170cm x 200cm and 221cm x 260cm
---
About Tapis Rouge 
Tapis Rouge is an internationally recognized brand producing luxury, hand-knotted  rugs. 
Founded and headquartered in Milano, Italy with production in Nepal, Tapis Rouge has  offices across the globe in Dubai, Los Angeles and Moscow. It delivers fine rugs to over  120 countries, creating unique luxurious pieces for private houses, residences, yachts  and lounges. To date, Tapis Rouge rugs have been chosen for the Diamond Fund, the  spaces that house the Kremlin's collection of 17th-20th-century jewelry, and the Moscow  State Museum of History.