Wellness Lounge by Estilo Blanco
An immersive spa experience at Cosentino City Dubai for Dubai Design Week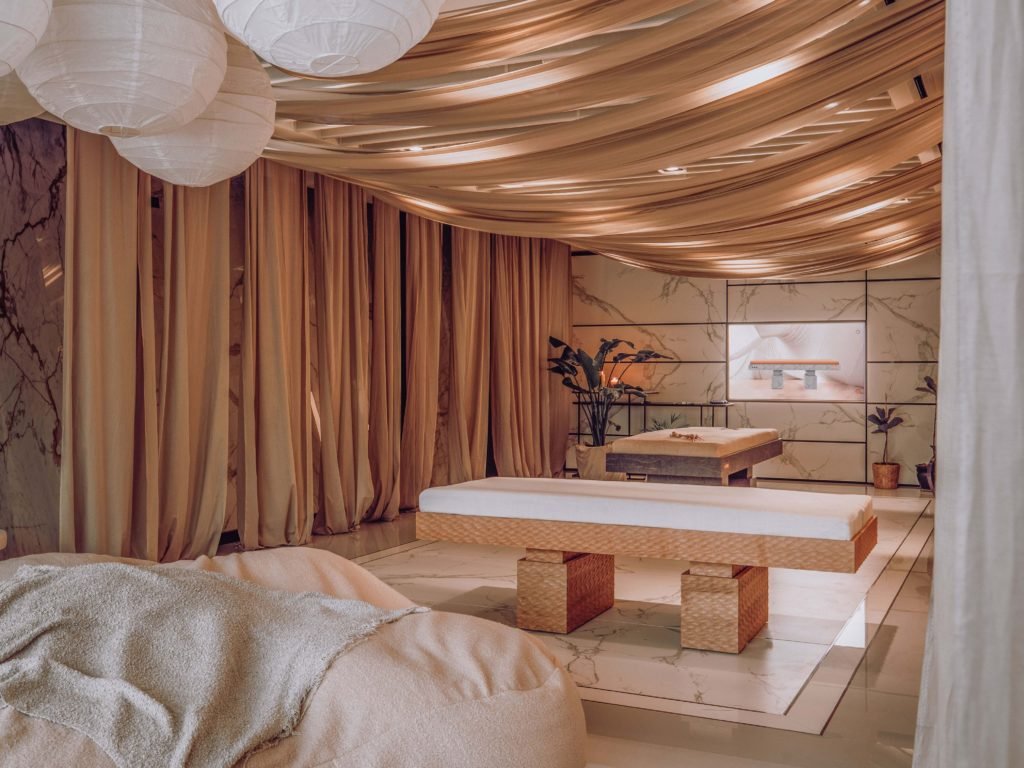 Dubai based interior design studio Estilo Blanco took over Cosentino City Dubai in d3 and transformed it into an immersive spa-inspired experience from 9-10 Nov as part of the global surfaces brand's showroom activations during Dubai Design Week. As an oasis of calm in the chaos for the fair, the lounge received walk-ins from 2-7pm with visitors stopping by to relax and recharge with wellness drink and healthy bites.
The co-founders of Estilo Blanco, designer duo Claudia Granberg and Gema Blanco, used 700 metres of pure, unstitched fabric in tan beige – the studio's identity colour, to drape the space and soften the harsh lines of the showroom. The resulting cosy cocoon was decorated with scented candles, statement lighting pieces and handcrafted décor elements from La Nena and the star attraction – a giant, bespoke cloud-like pouf.
The centre pieces of the transformed showroom were however the two exclusive electric massage beds by C.O.D.E. : Coco, clad in Dekton® Laurent and a second with a natural wood base.
An indulgent addition to the set up was the LED Light therapy face mask station which proved to be a bit hit with the visitors.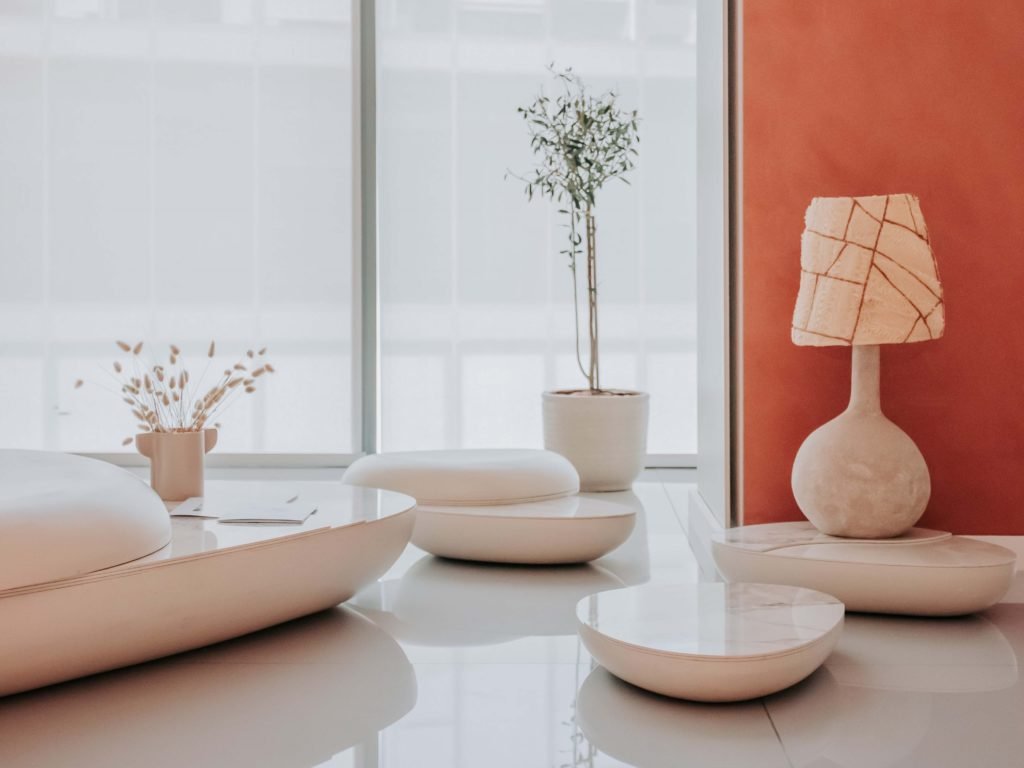 ---
About Estilo Blanco
Dubai based interior design studio Estilo Blanco, founded in 2021 by Claudia Granberg and Gema Blanco, was born from the union of two independent, established design practices: Estilo Space and Gema Blanco Interiors. The name Estilo Blanco, meaning "White Style" in Spanish, alludes to the studio's modern minimalist approach and design philosophy grounded in simplicity and the timeless elegance of materials. Defined by pure and functional design with emphasis on comfort, the projects created by Estilo Blanco carry the studio's signature look of neutral tones with temperate use of colours blended in with a variety of textures. The design house is also known for its bespoke high value furniture creations and impeccable art curation.
@estiloblancointeriors

About the Cosentino Group
Cosentino Group is a global, family-owned company that produces and distributes high value innovative and sustainable surfaces for architecture and design. The company's technologically advanced brands, Silestone®, Dekton® and Sensa® by Cosentino, add value and inspiration to people's lives by enabling the creation of unique designs for home, commercial and public spaces. The group bases its development on international expansion, an innovative research and development program, respect for the environment and sustainability, and its ongoing corporate commitment to society and the local communities where it operates, education, equality and health & safety.
www.cosentino.com