Humanscale Opens New Showroom in Manchester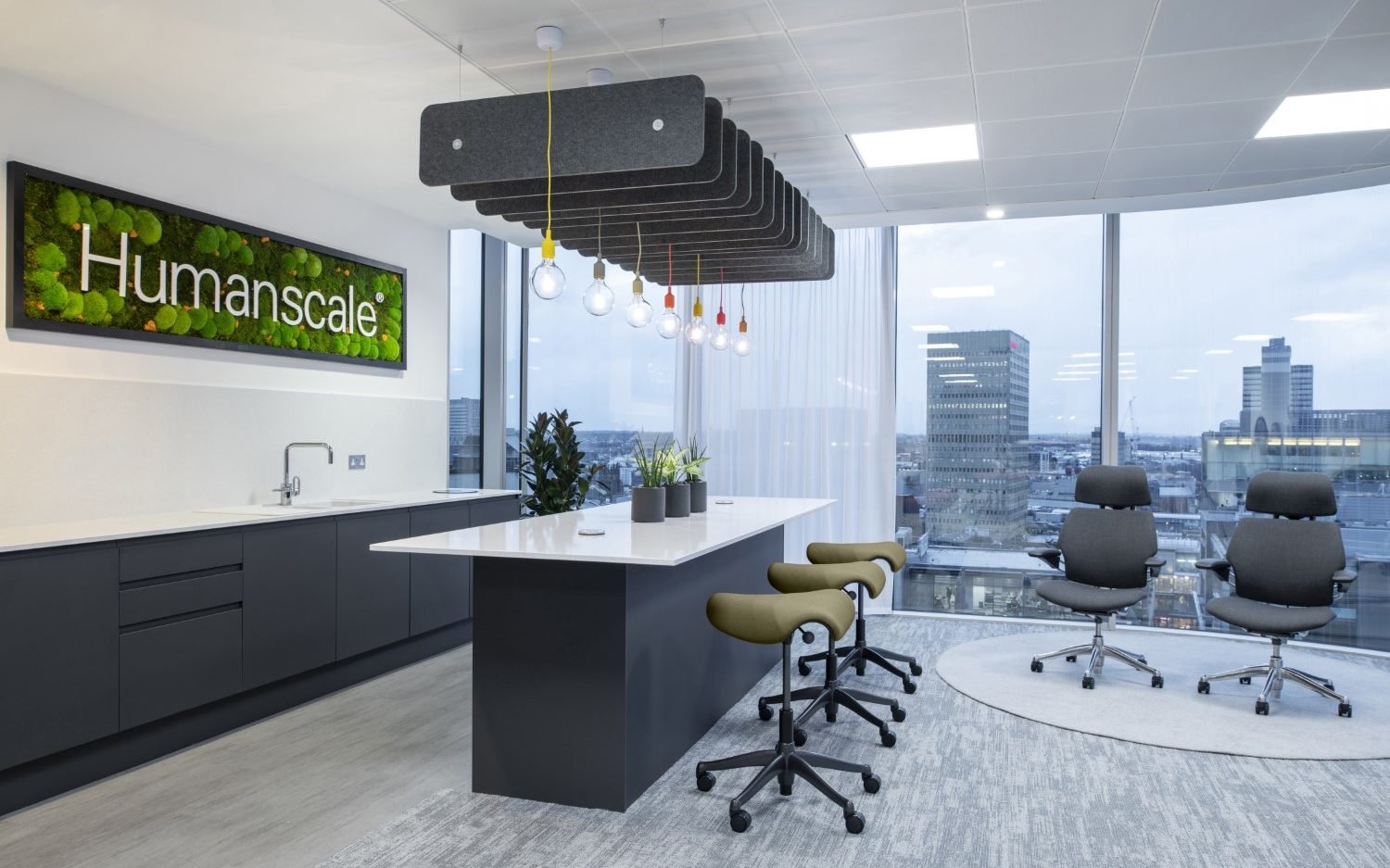 Humanscale, the leading designer and manufacturer of high-performance ergonomic products, has recently opened a stunning new showroom in Manchester. 
The move reflects Humanscale's confidence in the market and its goal to strengthen ties with architects, designers, project managers and facilities managers in the North West. 
The new showroom, embedded in the heart of this vibrant city, is located on the 12th floor of Chancery Place at 50 Brown Street, and features fabulous views across the city and beyond. 
Manchester is renowned for its rich industrial heritage, strong work ethic and, in recent years, its unity and community spirit, which is embodied by the symbol of the Worker Bee – the emblem of Mancunians for some 150 years. This hive of industry therefore provides the perfect location for Humanscale's Northern HQ. The new showroom embodies Humanscale's approach to an ergonomic working environment, showcasing workplace solutions that specialise in optimising workstation design for wellness and peak performance.
Commenting on the new showroom, Bob King, Founder & CEO of Humanscale, said:
"Manchester is a vibrant and growing business centre. With our new showroom, we want to provide our customers with a deeper understanding of the Humanscale product line and our commitment to sustainability."
At Humanscale, every internal decision is evaluated to minimise the impact to the Earth. To date, 26 Humanscale products have been certified net positive by The International Living Future Institute – which means that, each and every time they are made, the planet is measurably better off. Smart Ocean and Liberty Ocean chairs, for example, utilise material from discarded fishing nets, pulled directly from the ocean. The nets are transformed into plastic pellets and then used to manufacture the chairs. In the interest of transparency, the materials for each product are listed on the Declare Product Database – and proudly displayed in the new Manchester showroom.
Speaking of the showroom, on arrival, visitors are greeted at an informal breakfast bar area equipped with M/Connect series docking stations and the brand new Neat Charge inbuilt charging system, which can tech-enable guests in seconds. 
The main product display area features Humanscale's award-winning ergonomic solutions, including its collection of chairs, sit/stand desks and monitor arms, as well as its range of innovative tools and accessories. With a nod to the Humanscale New York showroom (which is located in the Grace Building on Bryant Park) the new Manchester space provides visitors with the opportunity to immerse themselves in the brand's design heritage whilst gaining an up to date look at the company's groundbreaking work around environmental stewardship. 
'The new showroom will provide Manchester's vibrant and dynamic design community unlimited access to Humanscale's full range of award-winning office solutions and leading industry experts in ergonomics and wellbeing in the workplace,' comments Pakize Nasuh, Managing Director, Humanscale UK.