Outdoor Furniture That Stands Toe to Toe with Interior Products
Outdoor furniture design continues to grow and evolve. What we find especially intriguing is the merging of styles between interior and exterior. This allows the home to continue to spill into the outdoors, with lounges flowing out, kitchens that open to the element, and projection screens that create an outdoor theatre of sorts. Human beings were meant to be one with nature, and while industrialisation and advancement has allowed us brick and mortar homes, the more we merge our interiors with our exterior, the healthier we will be. 
Outdoor furniture has traditionally always followed a distinct aesthetic that is more functional than beautiful, as opposed to its indoor counterpart. Exterior furniture also requires a different selection of materials, and the guiding design principles have remained within a certain distinct style. However, that doesn't mean that we cannot break these barriers. There are several brands that push the envelope of outdoor furniture design, bringing in contemporary and often funky designs that would truly make your patio or deck stand out.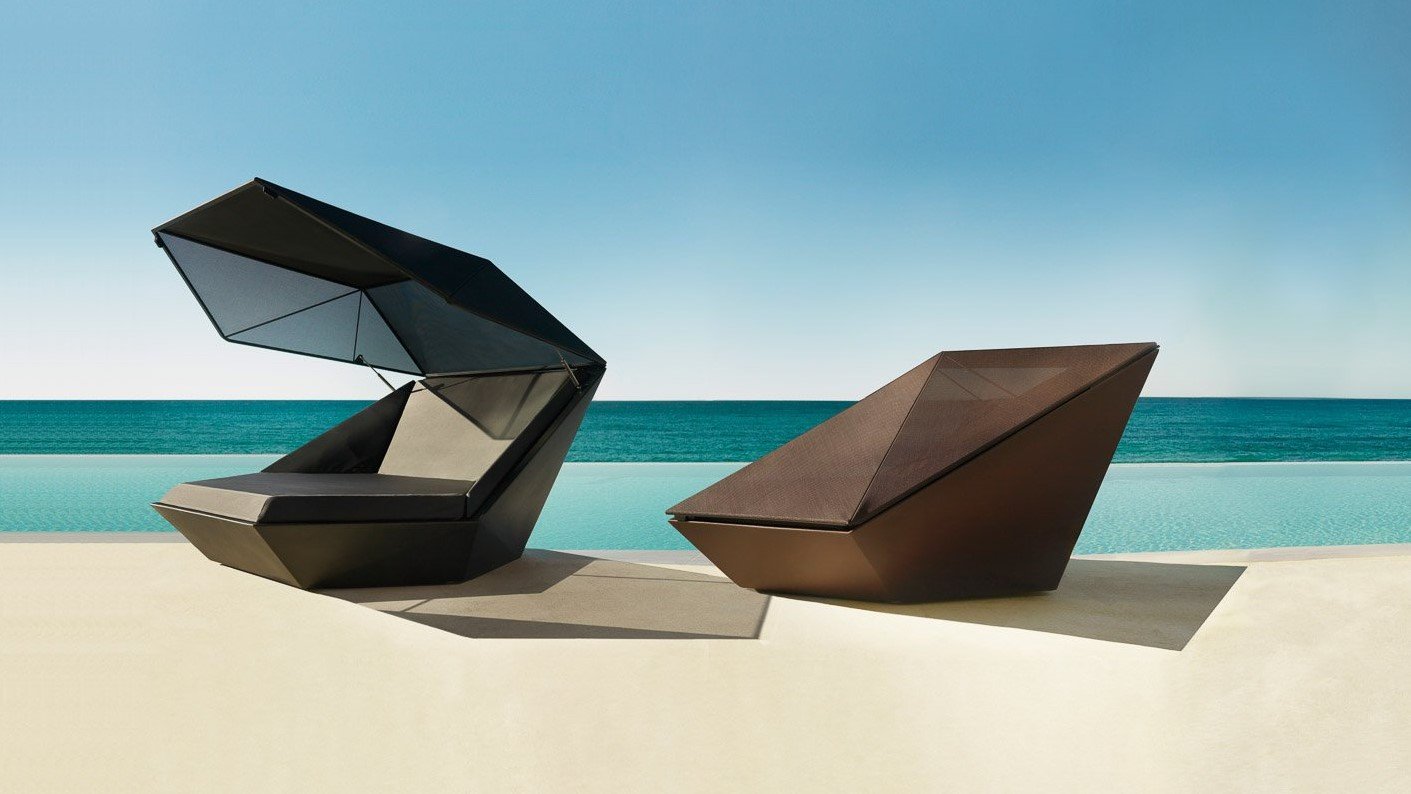 One brand that never fails to catch our attention is Vondom, a Spanish outdoor furniture manufacturer that has collaborated with the mega designers, such as of Fabio Novembre, Stefano Giovannoni, Eugeni Quitllet, Ora Ïto, Ross Lovegrove, Karim Rashid, Javier Mariscal, and many others to create some truly unique pieces. The brand creates products that are bold in expression and dynamic in style. For those looking to generate buzz and focus around the outdoor areas of their homes, offices, clubs, or lounges, Vondom is almost always the first choice. 
The Faz collection, for example, designed end to end for Vondom by Ramón Esteve, is clearly ahead of its time. Esteve, known for his harmonious and timeless designs, created the Faz collection to have mineral and emphatic shapes that contextualise homes and installations. The ambience is highly contemporary, and is a futuristic take on what modern outdoor spaces should look like. While most outdoor furniture aims to blend the exterior with the interior, Faz takes a bold step in keeping the outdoors unique. Outdoor furniture frequently aims to go for a chic look that features sleek lines and interesting angles, and Faz manages this while still creating a bold statement. The products from this collection were designed to break a pattern by delivering a contemporary and new age look and feel. 
Vondom's Kimono, another design by Esteve, takes inspiration from the iconic Japanese garment worn by men and women from the Hakuhō period. Derived from the Chinese pao-style robe, the essential kimono is an ankle-length gown with long, expansive sleeves and a V-neck. You'll notice these design themes in the Kimono chair as well, a design that is futuristic as well as traditional. This chair is certainly for those looking to nail down the contemporary and edgy look, yet managing a relaxed and simple outdoor setup. The character of the Kimono piece, thanks to its materiality, fits elegantly into a multitude of contemporary and classic contract and residential spaces.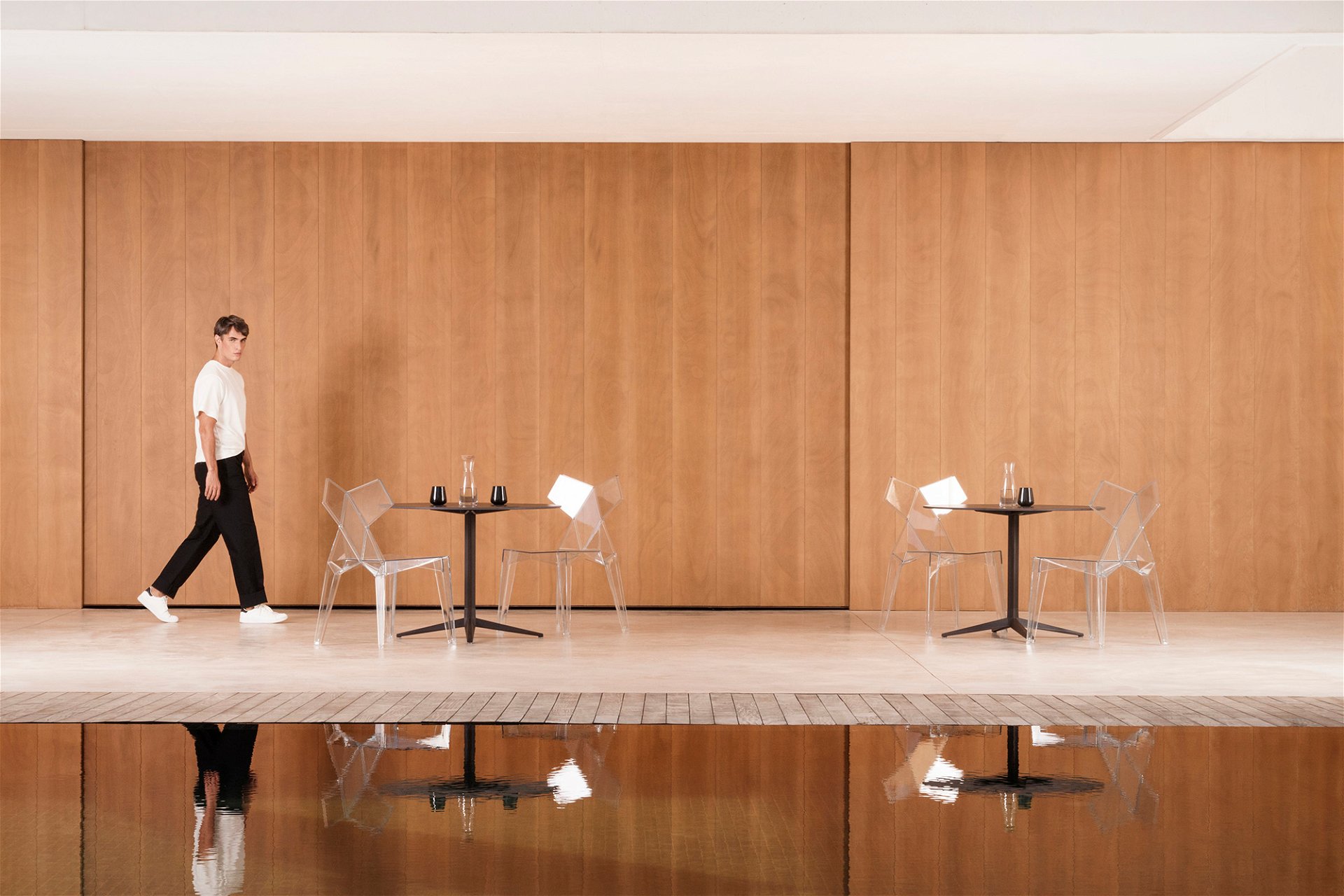 We can't talk about contemporary design and new-age furniture without bringing Karim Rashid into the conversation. The Voxel Collection, designed by Karim Rashid for Vondom, is characterised by its geometric and faceted forms, all made through injection moulding plastic. We especially like the Voxel Sun Lounger, a design that gives new life to an old design with modern style and functionality. Characterised by its geometric, angled, and faceted shapes. After Mixing and matching products and colours from this collection, you'll find that your pool isn't the only focus of your outdoor setup. 
---