Latest News on Kohler:
Smart Bathroom: Create an Experience as Unique as You
Reimagine your personal space with the world's smartest bathroom. KOHLER Konnect® smart products have the ability to transform your bathroom using light, sound, music and water. And with built-in voice control, it all happens seamlessly. Go from exotic to energizing and every feeling in between, because your bathroom can finally do what no other can: create an experience as unique as you.
Emulates a Garden Within the Bathroom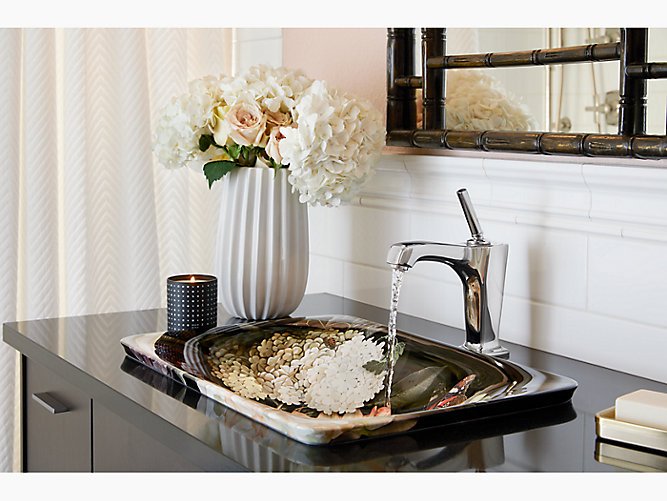 The Dutchmaster collection captures the movement and lush beauty of flowers, bringing bold artistic photography to the bathroom sink. Kohler collaborated with "florography" artist Ashley Woodson Bailey to create this exquisite floral composition. Inspired by Dutchmaster paintings of the 17th century, the glorious pattern is abloom with hellebores, fritillaries, ranunculus, and sweet pea, dramatically lit on a dark backdrop in the style of chiaroscuro painting. Rendered on the graceful contours of the Carillon vessel sink, Dutchmaster stands as a bold statement piece in the bath.
Etched Stone Statement Sinks Crafted Using Elemental Motifs and Techniques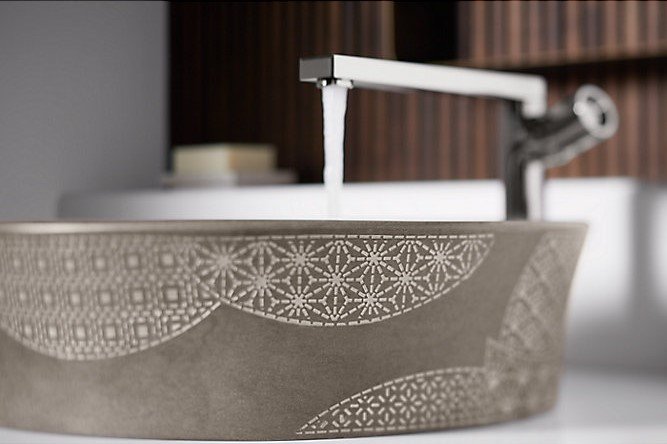 Etched in natural stone, Kensho is a vibrant marriage of strength and beauty, Eastern motifs and Western artistic techniques. The sensuous curves of smooth carved stone reveal a patchwork of Japanese sashiko kimono patterns depicting organic elements such as waves, mountains, and bamboo. Inspired by a 15thcentury Italian technique known as acquaforte, artisans etch textural patterns into the surface, creating a sense of movement across the stone. The etched patterns are then brought to life using a champagne-gold metallic finish. This labor-intensive handcrafted process, wrought on natural stone, makes each Kensho sink unique - and a stunning statement piece for the bath.